DIVYA PRERNA FOUNDATION
(Divine Inspiration)
Inauguration of SOLAR PRINTER & COPIER, in PURAAVILAI Village, KANYA KUMARI, TN
DPF P-20 & FIRST "LOK SEVA KENDRA" (LSK) in TN
1st Mar 2020
DIVYA PRERNA FOUNDATION is a Public Charitable Trust, based in Chennai, established on the 15th July 2011. DPF attempts to promote - sustainable living, in harmony with nature, along with the enrichment of the body, mind & intellect, helping to seek spiritual enlightenment by Divine Inspiration..
As a part of our Mission for Sustainable Living, we donate & install Solar Powered Systems in Public Access locations, to demonstrate & promote the use of renewable energy systems.
"DPF is proud to Inaugurate its 20th Project (P-20), the FIRST LSK in TamilNadu, a SOLAR Powered Printer & Copier System,in PURAAVILAI Village, near Nagercoil, Kanyakumari District, TN, for the VILLAGE FOREST COMMITTEE"
Based on the proposal dt 14 Dec 2019 from SELCO Solar, the 2 Options were examined & Option 2, involving joint sponsoring with SELCO FOUNDATION, was accepted.
Revised proposal from SELCO dt 20 Dec.2019, with project estimate of Rs 52,800, with the share of DPF of Rs 29,800 was approved, on 23rd Dec 2019, for execution by SELCO.
The Solar Printer & Copier system has 5 components – (1) One Solar Module of 150 Wp/12V with Module Mounting System mounted on the Terrace, (2) Battery of 150 Ah capacity (3) Charge Regulator 20 Amps for charging the Battery (CR SSR) and 4) DC Booster 150W, (12V DC to 230V DC), and, 5) CANON PIXMA G 2010 Printer / Copier with accessories for installation. An LED Tube Light of 10W is also provided from the Solar System, for lighting the Hall.
The Supply, Installation & Commissioning of the System was successfully completed by middle of Jan 2020..The Village Forest Committee. Puraavilai organized a formal Inaugural Function on 1st March 2020, in their premises, and invited us. The function was attended by DPF Managing Trustee V.Partha Sarathy & SELCO SOLAR was represented by Mr.Sathish, Sales Executive.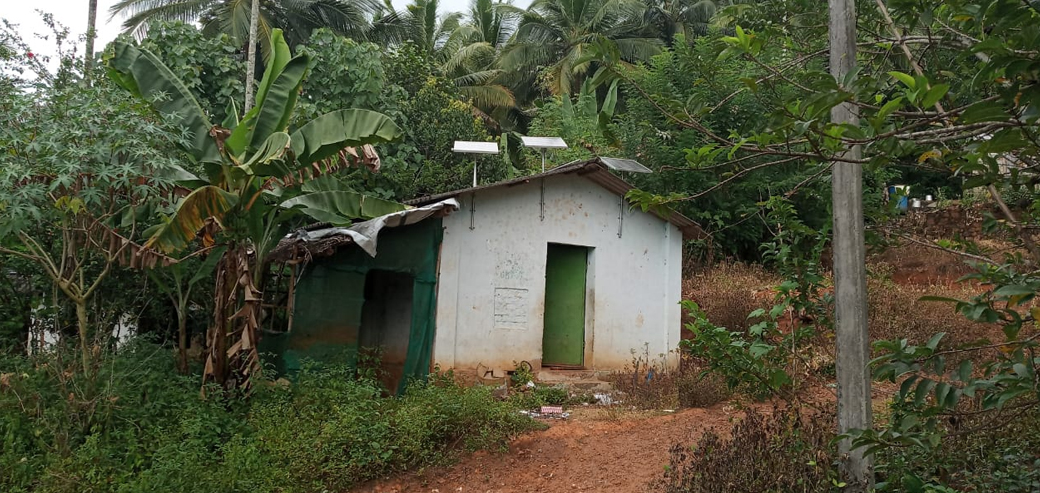 The Village Forest Committee Hall, which now becomes the Lok Seva Kendra-1 of TN
Puraavilai Village, Pechipaarai, KANYAKUMARI.
Mr Balan, the President of the Village Forest Committee, of Puraavilai welcomed the gathering of village elders, women & students, assembled to greet DPF Managing Trustee, in the function. A flower bouquet was presented to DPF MT. Mr Balan thanked DPF for the donation to set up this Solar Printer & Copier System in their village.
Mr Sathish, SELCO Sales Executive, then addressed the assembled villagers & explained the features & advantages for their community..
DPF Managing Trustee, V.ParthaSarathy, in his Inaugural speech, explained about Divya Prerna Foundation, and said that DPF is very happy to provide Support to tribal villages. He explained how the System would be very much useful to their children, for their studies, applications to colleges for admission/ to companies for jobs etc. At present they need to go about 20kms away to get Xerox copies or Computer print outs, which are now available in their own village. He requested them to take care of the system & make the best use of it for all villagers around Puraavilai.
After the address Shri V. Parthasarathy, Managing Trustee, Divya Prerna Foundation, presented the Display Poster of "Lok Seva Kendra (LSK-1 TN), specially made for the occasion, as it is the FIRST such LSK in the whole of TAMILNADU. He said to the villagers, that they should be proud of being the FIRST in the State to have such a nice facility!!
DPF Managing Trustee, V.ParthaSarathy, presenting the Display Poster of "LSK 1" to the
President of Village Forest Committee Mr Balan.
After the function, Mr Balan, showed the Guests the Honeycomb Boxes installed in their garden & how Pure Honey from wild flowers are collected, in an eco friendly way.
The photos & videos taken on the occasion can be viewed in our Website www.divyaprerna.org



(V.Partha Sarathy)
Managing Trustee, Divya Prerna Foundation                                                                                                                                      01st March 2020