DIVYA PRERNA FOUNDATION
(Divine Inspiration)
of SOLAR PRINTER & COPIER, in SOLAIYUR Village, THENI District, TN
DPF P-21 & "LOK SEVA KENDRA" (LSK -02) in TN
March 2020
DIVYA PRERNA FOUNDATION is a Public Charitable Trust, based in Chennai, established on the 15th July 2011. DPF attempts to promote - sustainable living, in harmony with nature, along with the enrichment of the body, mind & intellect, helping to seek spiritual enlightenment by Divine Inspiration..
As a part of our Mission for Sustainable Living, we donate & install Solar Powered Systems in Public Access locations, to demonstrate & promote the use of renewable energy systems.
"DPF is proud to Commission its 21st Project (P-21), the Lok Sevs Kendra LSK-02 in TamilNadu, a SOLAR Powered Printer & Copier System,in SOLAIYUR Village, near Nagercoil, Kanyakumari District, TN, for the Solaiyur Primary School, Solaiyur.
There was a Request letter from ARUDECS ( All Rural Development & Social Construction Society) on 04 Jan 2020, for supporting the Organisation to set up a Lok Seva Kendra in Solaiyur Tribal Village in THENI Distrct.
The Project proposal from SELCO dt 09 Jan 2020, with project estimate of Rs 52,800, with the share of DPF of Rs 29,800 ( with balance Rs 23,000 contribution from SELCO Foundation) was approved, by DPF, for execution by SELCO.
The Solar Printer & Copier system has 5 components – (1) One Solar Module of 150 Wp/12V with Module Mounting System mounted on the Terrace, (2) Battery of 150 Ah capacity (3) Charge Regulator 20 Amps for charging the Battery (CR SSR) and 4) DC Booster 150W, (12V DC to 230V DC), and, 5) CANON PIXMA G 2010 Printer / Copier with accessories for installation. An LED Tube Light of 10W is also provided from the Solar System, for lighting the Hall.
The Supply, Installation of the System was successfully completed by middle of Feb 2020, in Solaiyur Primary School, who provided the space to ARUDECS... No formal Inaugural Function could be organised in March 2020, due to the COVID-19 LOCKDOWN. So the system was commissioned & put to use in the school.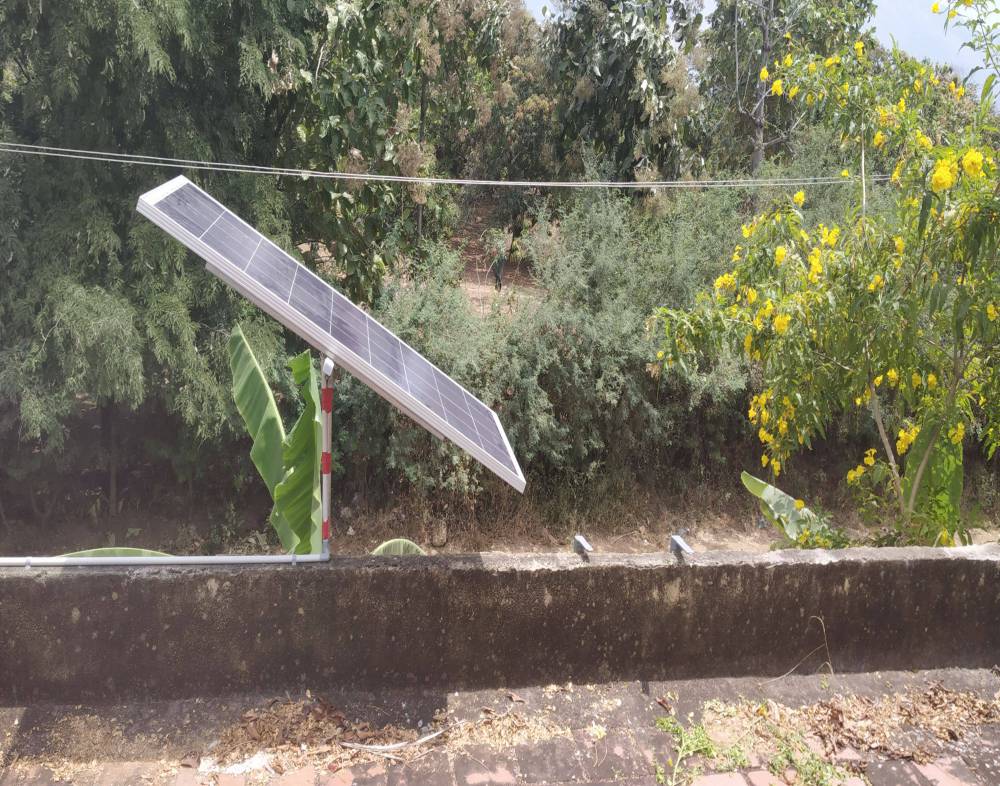 Solar Panel Installation for 2nd Lok Seva Kendra in TN,in the Solaiyur Primary School.
The photos & videos taken on the occasion can be viewed in our Website www.divyaprerna.org



(V.Partha Sarathy)
Managing Trustee, Divya Prerna Foundation                                                                                                                                      31st March 2020